Kale and cucumber juice is a delicious and refreshing way to get your daily dose of vitamins and minerals.
But did you know that this potent beverage can also help improve your overall health in a number of ways?
Keep reading to learn more about the benefits of kale and cucumber juice.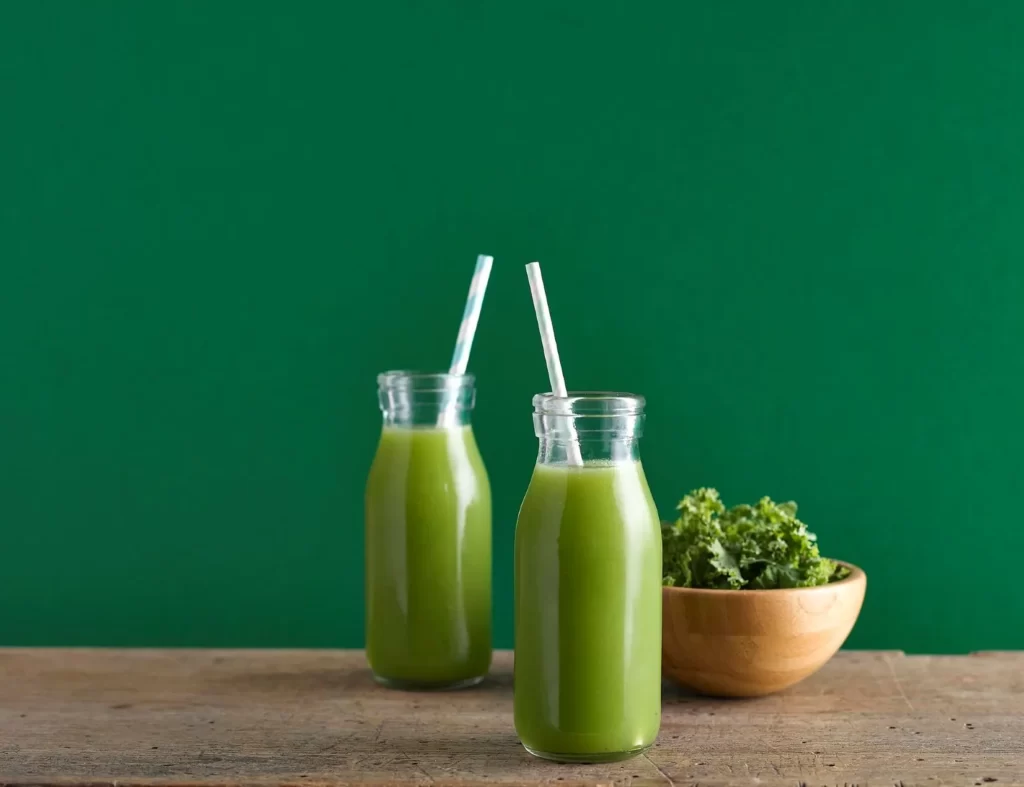 Nutrition Facts
Kale is a superfood and one of the most nutrient-dense vegetables you can eat. It is high in vitamins A, C, and K, as well as calcium and iron.
Cucumbers are also packed with vitamins and minerals such as vitamin K, potassium, and magnesium. Both kale and cucumber are low in calories and high in fiber, making them a great addition to any weight loss plan.
Kale and Cucumber Juice Benefits:
1. Boosts Immunity
Kale and cucumber juice is packed with vitamins and minerals that help boost immunity, including vitamin C, beta-carotene, and magnesium.
Drinking this juice regularly can help ward off colds and other illnesses.
2. Promotes Digestive Health
The fiber in kale and cucumbers helps promote regularity and keep things moving smoothly through the digestive tract.
This juice is also a good source of water, which helps keep the intestines hydrated and functioning properly.
3. Detoxifies the Body
Kale is rich in chlorophyll, which helps detoxify the body by binding to heavy metals and other toxins.
Cucumbers are also hydrating and diuretic, which means they help flush out toxins through urine. Drinking this juice regularly can help purify the blood and cleanse the organs.
4. Improves Skin Health
The vitamins and minerals in kale and cucumber juice can also improve skin health.
Vitamin C helps reduce inflammation and promote collagen production, while beta-carotene acts as an antioxidant to protect against free radical damage.
Drinking this juice regularly can help improve the appearance of your skin.
5. Supports Heart Health
The potassium in cucumbers can help lower blood pressure and reduce the risk of heart disease.
Kale also contains omega-3 fatty acids, which have been shown to improve heart health and reduce the risk of stroke.
6. May Help Prevent Cancer
Kale is a cruciferous vegetable and has been shown to have cancer-fighting properties.
The antioxidants in cucumbers can also help ward off cell damage and reduce the risk of certain types of cancer.
7. Supports Bone Health
The high levels of vitamin K in kale and cucumber juice can help improve bone density and prevent osteoporosis.
The calcium and magnesium in this juice also support bone health and may reduce the risk of fractures.
8. May Improve Cognitive Function
The vitamin E and omega-3 fatty acids in kale and cucumber juice have been shown to improve cognitive function and may even reduce the risk of Alzheimer's disease.
You can also read about the 20 health benefits of celery and kale juice.
How to Make?
To make kale and cucumber juice, simply blend together 1 cup of chopped kale, 1 cucumber (peeled and seeds removed), 1 green apple (cored and sliced), and 1 lemon (peeled).
Strain the mixture through a fine mesh strainer to remove any excess pulp.
Enjoy your refreshing and nutritious juice immediately!
Note: If you have a high-powered blender, you can skip the straining step and enjoy a thicker juice with added fiber.
Alternatively, mix in a scoop of your favorite protein powder for an extra boost of energy.
Experiment with adding other fruits and veggies as well, such as spinach or pineapple. The possibilities are endless!
Best Time to Drink for Body Optimization:
It is best to drink this juice in the morning or before a workout for an added energy boost.
It can also be enjoyed as a refreshing and healthy snack throughout the day.
Avoid drinking it too close to bedtime, as the natural sugars from the fruits may interrupt your sleep.
Keep in mind that while kale and cucumber juice can have many health benefits, they should not be relied on as a sole source of nutrition.
Be sure to incorporate a variety of fruits and vegetables in your daily diet for optimal health.
Don't drink after a large meal, instead drink on an empty stomach for maximum benefits. Drinking kale and cucumber juice regularly can boost your overall health and wellness.
Give it a try and see how you feel!
When It could be Spoiled?
Kale and cucumber juice is best enjoyed immediately after blending. However, it can be stored in the fridge for up to 24 hours.
Make sure to give it a good shake before drinking as the ingredients may separate while sitting. It should be discarded if there is any sign of mold or spoilage.
Adding citrus fruits like lemon can also help preserve the juice for longer. Make sure to use clean utensils and a sealed container to prevent contamination.
Probable Side Effects
Drinking too much kale and cucumber juice may cause digestive discomfort due to its high fiber content.
It is also important to note that people with kidney problems should avoid excessive consumption of cucumbers, as they contain oxalates which can worsen kidney function.
As always, it is best to consult with a healthcare professional before making any major changes to your diet.
Enjoy kale and cucumber juice in moderation as part of a balanced diet for maximum benefits.
Related FAQs:
What are some other healthy juice combinations?
Some other nutritious juice combinations include carrot, apple, and ginger; watermelon and mint; spinach, cucumber, and lemon; or beet, orange, and ginger.
How can I make my own juices at home?
To make your own juices at home, invest in a good quality juicer or blender. Wash and prepare your fruits and vegetables, then blend or juice them together to your desired consistency.
Strain the mixture if needed and enjoy immediately for maximum nutritional benefits.
Experiment with different combinations to find your favorite flavors!
It is also important to drink freshly made juices within 24 hours, as extended storage can lead to nutrient degradation.
If you have leftover juice, store it in an airtight container in the refrigerator and consume it within 2-3 days.
Remember to wash all fruits and vegetables thoroughly before juicing or blending to avoid any potential contamination.
Can juice replace a meal?
It is not recommended to rely solely on juices as meal replacements, as they do not contain all of the essential nutrients and energy required for a balanced meal.
However, enjoying a nutritious juice as a snack or alongside a well-rounded meal can be a great addition to your diet.
It is always important to listen to your body and eat when you are truly hungry, rather than replacing meals with juices for weight loss purposes.
It is also important to consult with a healthcare professional before making any significant changes to your diet.
Conclusion
If you're looking for a juice that will help keep your body healthy and hydrated, kale and cucumber juice is a great option.
Kale is packed with vitamins and minerals, while cucumbers are high in water content and electrolytes. This juice blend is also low in calories and sugar, making it a good choice if you're trying to watch your weight or blood sugar levels.
Give this juice recipe a try the next time you want a refreshing drink that will provide some health benefits too!