Safflower oil for skin is very much underrated in the skincare industry. You have not seen this ingredient much in skincare products. Since it holds a good amount of benefits for the skin, the beauty industry thinks utilizing it more.
As I said earlier, safflower oil is not that famous for using in the skin. However, some companies are now using safflower oil in essential and body oil forms.
For its ultra-hydration features, dermatologists are ready to explain to you why you need safflower oil for skin and how it can benefit your skin.
That is why we are here to show some of the amazing benefits safflowers oil can bring to your skin. Continue reading to discover more.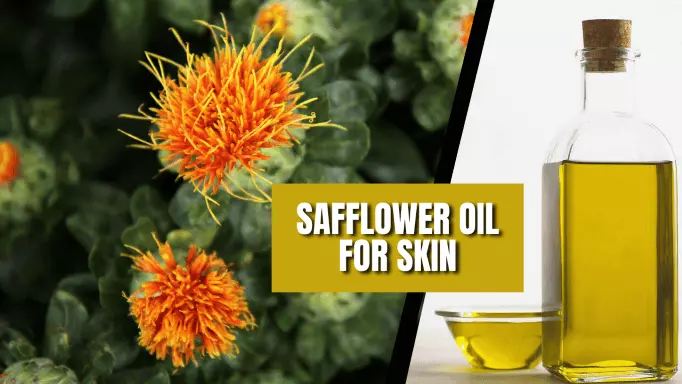 Also read: Is Soybean Oil Gluten Free? Side Effects, Benefits & more.
Why is canola oil banned in Europe? Actual Truth & Reason.
Sunflower oil for hair– benefits, growth, hair loss, use & more.
How Long Does Sugaring Last? & Some Tips If The First Time.
Coconut oil for eyelashes: Side effects, benefits, how to use & all.
Dill oil Recipe, benefits, side effects, company, weight loss, use.
What is safflower oil?
Before we begin with the benefits and more, we need to know what safflower oil actually is?
Safflower is mainly a plant. The seeds of safflower plants produce the safflower oil. Egypt, East Asia, and the western regions of North America have more access to this plant. 
The method of extracting safflower oil is mainly cold pressing or traditional solution technique. Because of its subtle flavor, this is a very good culinary oil. Yet, it is attracting interest in the skincare market.
Moreover, the plant is now mostly grown for its oil. Since it has high saturated fats, helping preserve the skin nourishment. 
Safflower oil for skin
Safflower oil has stored so many skin advantages. It contains antioxidant properties which help the skin to breathe and be healthy. 
The hydrating component in safflower oil makes skin look younger and brighter. Safflower oil is like one of those multi-tasking oils that moisturize while evening out the appearance of fine lines.
This oil has anti-acne capabilities. People with acne-prone skin can easily apply it to their skin for better results. With the power of antibacterial and anti-inflammatory ingredients, safflower can fight the itchiness that comes with acne.  
The amazing part is it leaves no acne marks on the face. Besides, safflower oil fades away any dark marks or scars on the skin. 
You can use it twice a day on your skin. And wait for the magic to happen.
Also read: Papaya benefits for skin– benefits, usage, and side effects.
Pineapple spears in coconut water: Recipe, Side effects & all.
How to use Safflower oil on the skin?
Safflower oil can be used on the skin in several ways. It can be applied directly to the skin or added to lotions, creams, or other products. Safflower oil is also sometimes taken orally to help treat these same conditions.
Safflower oil is thought to be beneficial for the skin because it is high in linoleic acid. This fatty acid is thought to help the skin retain moisture and keep it healthy. Safflower oil is also a source of vitamin E, which is another nutrient that is important for healthy skin.
Benefits of safflower oil for skin
Safflower oil is high in linoleic acid, which is beneficial for the skin. Besides, it boasts a slew of other skin-friendly properties. Let's take a look.
Treated wrinkles and dryness: 
Safflower has vitamin E and fatty acids, and both are essential for healthy skin. Like, we all know vitamin E can prevent aging processes. So, if you get wrinkles, no worries, safflower oil will take care of it.
In addition, a study found out that women who are in their midst. If they use linoleic acid in the form of oil, they can also get rid of wrinkles and dry skin.
Not just linoleic acid but also vitamin C can also do wonders to the skin.
It has anti-inflammatory properties: 
Because of its anti-inflammatory characteristics, safflower oil is excellent for people with sensitive skin. Many skin issues like eczema, psoriasis, and acne can also go away by using safflower oil.
Using safflower oils can assist in maintaining the health of the skin while also reducing inflammation and irritation.
Furthermore, the saturated fats in safflower oil may help with problems, including dermatitis and wound healing.
A fantastic moisturizer: 
Safflower oil is not like other oils. You will find several mineral oils that will clog your pores. But safflower oil will keep the skin soft, smooth, and luminous.
Although the risk of clogging pore is very minimal here compared to other oils. As the linoleic acid content is very low, safflower oil will balance the sebum levels.
In addition, because of its lightweight, non-greasy composition, safflower oil is quickly absorbed into the skin. As a result, it functions as a great hydrating face oil for every skin type.
So, here we can confidently claim that a significant benefit of safflower oil for skin health is maintaining your skin hydrated. 
Wound healing with safflower oil: 
Safflower oil is an exceptional oil that improves the healing process. The anti-inflammatory properties of safflower oil are beneficial to the skin. 
It contains linoleic acid, which has a pro-inflammatory impact and helps wounds heal faster. As soon as the skin is injured, the immune system starts responding. 
And here, the topical vitamin E in safflower oil accelerates the wound healing process. 
Skin-soothing safflower oil: 
Oil from safflower contains both omega-3 and omega-6 fatty acids, which play a significant role in making skin healthy.
The fatty acids in safflower oil are also important for ensuring the health of the skin's outer surface. Secondly, they have a remarkable effect on the overall texture of the skin.
Safflower oil, when used topically, reduces the feelings of skin irritation and inflammatory diseases while also cooling and moisturizing the skin.
Safflower oil for skin acne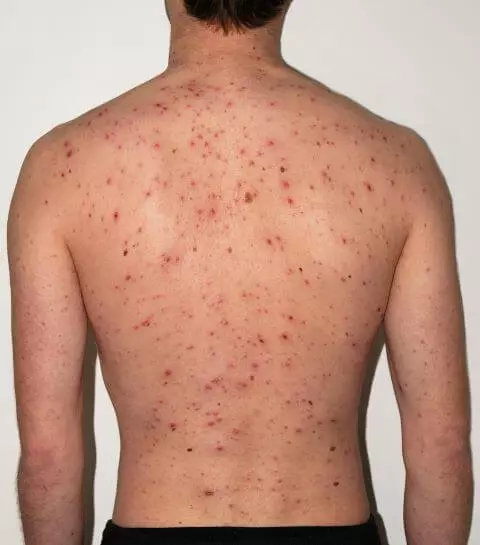 Apart from all of these benefits, safflower oil shows incredible performance in reducing acne and skin lightening. The absence of comedogenic properties means that safflower oil will not clog your pores. Anti-inflammatory properties help combat acne and pimples.
If you apply safflower oil to your skin a few times a week, it will unclog pores and clear acne.
There is no other oil on the market that has as much linoleic acid as safflower oil. In combination with sebum in the pores, linoleic acid in safflower oil can unclog pores, reduce acne and blackheads and unclog pores.
As well as reducing scarring, it improves skin tones and the texture of your skin. So, stop worrying about clogged pores and acne.
Safflower oil for skin lightening
External conditions, hormone changes, and harmful UV rays can harm healthy skin. To prevent this, use a treatment that can suit your skin's necessities along with elements that have natural therapeutic value. Safflower oil can go under the skin's roots.
Moreover, the antioxidant properties of vitamin E in the safflower oil help to safeguard skin from direct sunlight by reducing cell damage.
Another noteworthy advantage of safflower oil for the skin is its protection from the sun.
Safflower oil contains vital fatty acids that enhance collagen and good skin cell production, as well as lightening dark spots.
Consequently, safflower oil makes your skin hydrated and glowing.
Sunflower oil VS safflower oil for skin
Did you ever get confused between safflower oil and sunflower oil? Well, these two words rhyme so closely that anybody can misunderstand them. So, let's talk about it.
Sunflower oil: 
Begin with sunflower oil. It is available in three different types. High oleic, mid oleic, and linoleic.
The amount of polyunsaturated and monounsaturated lipids in the oil is indicated by the oleic and linoleic acids.
Monounsaturated fat contains more oleic acid, which is considered the healthiest type of fat. On the other hand, linoleic has higher levels of polyunsaturated fats (which are considered less beneficial), whereas mid-oleic fall somewhere in between.
Safflower oil: 
The high oleic level is the major part of the safflower oil in the world currently. It has a fatty composition. In addition, oil characteristics are close to the high oleic sunflower oil explained previously.
The monounsaturated compound is present in high oleic safflower oil, whereas polyunsaturated fats are also there in high linoleic safflower oil.
Therefore, we can state that clearly, there is no similarity in elements. Now, comes to other differences.
Both come from two different plants. 
Safflower oil has less variety than sunflower oil.
Sunflower oil is much more popular than safflower oil.
Prices depend on the quality of high oleic versions. In this case, both are similar, but sunflower gives cheap linoleic versions. So, prices will fluctuate according to that.
Possible side effects of safflower oil
Both specialists emphasize how well safflower oil is absorbed overall. Nonetheless, an allergic response is always a possibility. If you have a chrysanthemum, poppy, daisy, or related plant sensitivity.
You should avoid safflower oil as well. 
You can do a test run if you are unsure. Apply some of the oil on the hand or wrist. Leave it for more than 24 hours. Wait till you are sure that you do not feel any disturbance on your skin. 
It's also important to note that safflower oil could help stop clotting in certain people, owing to high vitamin E contents. As a consequence, people with clotting disorders should be more careful. 
Conclusion
You surely can add safflower oil to your beauty regime without any doubt. It is full of benefits for every type of skin. Safflower oil preserves the skin, enhances its overall appearance, and slows the signs of aging.
From getting rid of acne to dark patches, it will solve several skin-related issues. We hope you will try safflower oil for your skin at home.