Sunflower oil for hair is the new trend in the beauty world. If you want to have shiny, healthy, and strong hair, now count on sunflower oil for that. As we already know, there are other essential oils available for hair.
Those essential oils are more popular than sunflower oil. In recent times, sunflowers have gotten the attention of beauty experts. Besides, it has all the good benefits which can improve your natural hair.
However, without knowing the benefits, one shouldn't use anything on their body. That is why we are here to tell you about sunflower oil for hair.
Let's dig deep into the article to discover more.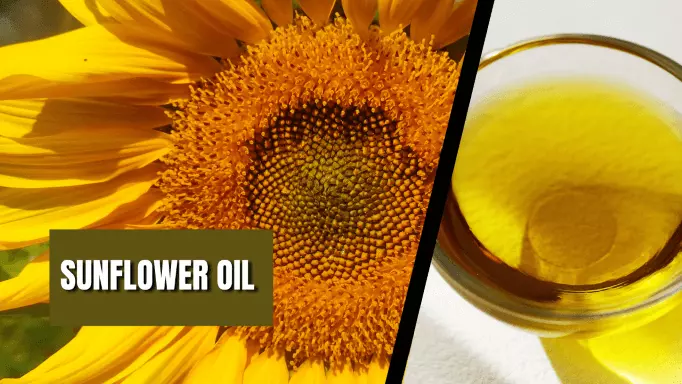 Also read: Is Soybean Oil Gluten Free? Side Effects, Benefits & more.
Why is canola oil banned in Europe? Actual Truth & Reason.
How Long Does Sugaring Last? & Some Tips If The First Time.
Coconut oil for eyelashes: Side effects, benefits, how to use & all.
What is sunflower oil?
Let's start with a general definition of sunflower oil. Basically, sunflower oil comes from sunflower seeds. These seeds contain a good amount of nutrition value. 
Manufacturers mainly extract oil from seeds either by using chemicals or by pressing. America grows the best sunflower as they provide the correct amount of moisture and sunlight for the plant.
Also, Helianthus Annuus is another name for the sunflower plant. They got the attention for their vivid yellow hue look and nutritious seeds and oils. Thus, sunflower oil is good for the body as well as for hair.
Anyways, our article is about sunflower oil for hair. So, we can say that it is full of goodness for your hair. It will enrich and improve your hair condition in no time.
Sunflower oil for hair
We all know that sunflower oil gets used as a cooking essential. But we never thought of using it on our hair. There are several oils in the market for hair nourishment.
Then, what is so good about sunflower oil?
Firstly, you will get to see three types of sunflower oil. Such as standard, high, and moderate oil.
The standard oil has rich linoleic acid in it. Then there is the high one which has oleic acid. And the moderate oil got a middle amount of oleic acid.
Secondly, the nutritional values of sunflower oil. It has Omega-6 fatty acids. This oil will help you to promote hair growth, regulate the metabolic activity, keep bones healthy, and assist in hormonal balance.
Lastly, all the premium benefits that sunflower oil stores. This rich oil helps to heal dandruff, promote hair development, reduce hair loss and enhance hair texture.
Likewise, your scalp and hair will stay away from any fungus and bacteria. Sunflower oil will make sure that you get moisturized hair and scalp.
Also read: Pineapple spears in coconut water: Recipe, Side effects & all.
Benefits of sunflower oil for hair 
As of now, you got the minimum idea about sunflower oil. Now you must be wondering how sunflowers can actually benefit your hair. To know more in detail. Let's take a look down below.
Smoothes and shines hair
Everybody hates rough and frizzy hair. It happens because of the weather and using the strong products in the hair. However, sunflower oil is here for the rescue.
Sunflower oil can reduce frizz and roughness. It will moisturize your hair and will give a shinier and smoother look.
Benefit the scalp
The scalp is the ultimate core of hair health. Without solving the scalp problem, you can not go forward. For that, sunflower oil has vitamin E.
Vitamin E helps to prevent bacteria so that the scalp doesn't get dry and flaky. Furthermore, sunflower oil is effective at preventing the appearance of thinning hair.
Also, it will minimize early hair loss, male and female pattern baldness, and alopecia areata.
Antioxidant Capabilities
Vitamin E in sunflower oil is an antioxidant. And antioxidant qualities help to reduce free radical-induced aging.
UV light protection for hair
Sunflower oil is UV light-resistant. It will protect your hair from direct sunlight damage. Hair gets pretty damaged when it comes in contact with heat.
Therefore, sunflower oil keeps hair strong and protects it from UV damage.
Hair cleanser
This oil will remove excess oil from the scalp and clean the hair thoroughly. It is a standard cleanser for removing dust from the hair.
Shampoos that have sunflower oil components are good for hair and scalp. As a result, it will keep the moisture and will enhance the natural shine of hair.
Develop hair quality
Sunflower oil has the ability to break hair strands and cover them with a light coating that protects them from damage.
It can also effectively combat hair frizz by increasing hair gloss and decreasing friction forces.
Sunflower oil for hair growth
An active component of sunflower oil is arachidonic acid, which is a metabolite of linoleic acid. Hair growth is proven to be boosted by arachidonic acid when used in moderation.
As previously discussed, linoleic acid gets metabolized to form other beneficial acids. Arachidonic acid is one of those acids.
According to research, arachidonic acid extends hair shafts and increases dermal papilla cell growth.
If you are using it at a moderation level, the oil will promote hair development. Yet, it shouldn't get used in high amounts. As it can trigger scalp irritation and hair loss.
However, the vitamins and minerals in sunflower oil will promote hair growth.
Sunflower oil for hair loss
It is common to lose a few hair strands every day while brushing. Both men and women struggle with this problem. Baldness happens whenever the hair that comes out is not replaced by new hair.
So, whenever you see that you have extra hair on the forearms, shoulders, and garments than on the head, it is time to take action to avoid balding. Sunflower oil can be of great assistance in this regard. A variety of circumstances causes hair loss.
It might be hereditary reasons, the aging phase as a whole, or even those harsh chemical therapies. Males and females in their late 30s and 40s may notice a minor loss of hair due to physiological reasons.
Hair damage can be caused by protein deficit as well as hormone imbalances during childbirth, adolescence, and menopause, as per specialists. In addition, childbirth causes a lot of stress on our bodies, which can lead to a lot of hair loss.
Furthermore, androgenetic alopecia, or loss of hair triggered by the genetic composition, is a normal process. Chemotherapeutic medicines, antidepressants, arthritis medications, and high blood pressure medications can all cause hair loss.
Sunflower oil is derived from sunflower seeds and includes minerals and vitamins which have a variety of hair-friendly characteristics.
It possesses anti-inflammatory characteristics that aid in the treatment of erythema, peeling, roughness, and pimples associated with scalp irritation. Sunflower oil also helps to keep hydration in the scalp and is a herbal alternative for dullness and frizziness.
It also makes the hair smoother and minimizes the possibility of broken ends.
It includes gamma alpha-linolenic acid (GLA), which can aid in hair loss and baldness prevention.
How to use sunflower oil for hair
Sunflower oil is used in the hair roots to hydrate them. To begin with, heat three to four teaspoons of sunflower oil and massage it into your scalp and hair well.
Next, cover the hair with a shower cap and keep it on for about forty-five minutes to an hour. You may also wrap your hair in a warm cloth. As always, wash.
Sunflower oil can assist in keeping hair moisturized and frizz-free. Using your hand, apply a couple of drops of seed oil. To distribute the oil, massage the palms together, then gently wipe the palms throughout the hair. This gives the hair a soft sheen while also preventing frizz.
Sunflower oil gets used to enhance the thickness and quality of hair in handmade DIY masks. You can use sunflower oil with sugar, avocado oil, other essential oils, or eggs.
According to research, including sunflower oil in the hair conditioner can help nourish the hair while washing it.
Side effects
Sunflower oil used topically is usually considered safe. However, some people may get severe allergic responses as a result of it. These responses can get triggered by certain pollen.
As a result, a spot check on the forearm or even the neck area is advised to examine for any side effects. However, remember to consult a doctor if you notice any redness, irritation, hives, bumps, or other symptoms.
If you do not have any allergies, you can keep using sunflower oil.
Also read: Safflower oil for skin | for skin lightening – acne, benefits & more.
– Papaya benefits for skin– benefits, usage, and side effects.
Conclusion
More study into the advantages of sunflower oil for the scalp is needed. While you may use it on a daily basis for its benefits, make sure that you have a patch test it first. If you have any allergic symptoms, seek medical advice.
Here we tried to show you every possible thing about sunflower oil for hair. I hope you got all the answers you were looking for regarding sunflower oil.
However, using this oil in your daily hair care routine may increase hair shine, reduce frizz, and support overall hair growth.