You can not imagine papaya benefits for skin enough.  It is not just a delicious tropical fruit but also a powerhouse of nutrients. You may or may not like the taste of papaya, but you can't deny the benefits.
Apart from being good for health, you can use it as a natural remedy to hydrate and restore the natural radiance of your skin. Additionally, papaya has the active papain enzyme that makes wonder for your skin.
The skin-purifying properties of papaya will nourish your skin from deep cells. Thus, in this article, you'll know more about papaya's benefits for the skin.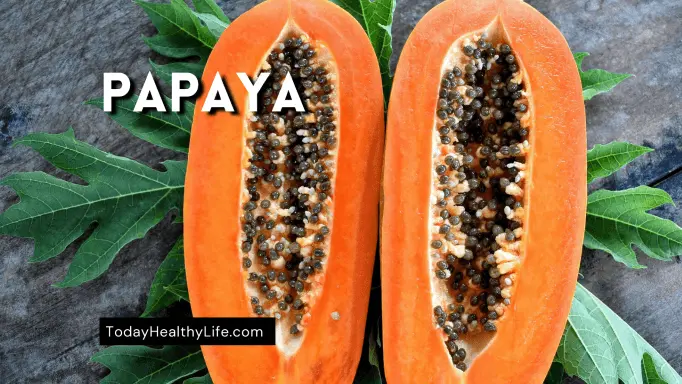 Also read: What does papaya taste like? Surprising facts and guidelines.
Pineapple spears in coconut water: Recipe, Side effects & all.
Rambutan VS Lychee: Taste, Nutrition, Side effects & more.
Is Soybean Oil Gluten Free? Side Effects, Benefits & more.
Papaya benefits for skin
Papaya can help to enhance your complexion. It aids in the reduction of hyperpigmentation as well as the control of skin problems and wrinkle production. Papaya could help you to achieve youthful skin or lessen acne-related problems.
Continue reading to learn about the papaya benefits for skin:
Acne treatment
Acne breakout is one of the common problems. It gets worse if you are not treating it well. For this, papaya has papain and chymopapain, which helps to decrease inflammation. It soothes the irritation. Papain makes it an effective treatment for acne-prone skin.
Papaya will help you to fight against acne by removing dead cells from the skin. It eliminates damaged keratin from the skin, which causes small bumps. Retinol is a vitamin A product that helps to reduce the risk of developing inflammatory acne.
Reducing wrinkles
Papaya has a solution for wrinkles as well. It contains antioxidants like lycopene that might actually prevent the appearance of wrinkles. As per the latest report, antioxidants can fight harmful free radicals, allowing your skin to remain smooth and younger.
Removes pigmentation
Sometimes, acne leaves scars or any other scars for that it creates an uneven skin tone. If you are suffering from pigmentation, papaya is on the way to rescue you.
The skin-lightening properties of papaya help to reduce imperfections and discoloration. It includes the enzyme that works as an effective skin exfoliator and removes dead cells. As a result, skin tone gets lighter.
Additionally, both beta-carotene and organic nutrients in papaya enhance the brightness and look of the skin.
Hydrates skin
Whenever it comes to handling dry skin and moisturizing the skin, papaya is a remarkable element. The rich antioxidant and enzyme activity of it helps with dryness and flaky skincare.
Using papaya pulp on the face moisturizes the skin and restores its radiance.
Anti-aging
Omega-3 fatty acids have the ability to help prevent the aging process and give appropriate sustenance. And, without a doubt,  using papaya on the face can give you healthy, younger-looking skin.
Treats skin problems
Papaya works as a natural treatment for scars, wounds, and other skin conditions. The enzyme papain exfoliates dead skin and removes impurities from the skin. Using mashed papaya pulps gently to the affected skin will relieve irritation and redness.
Tan removal
If you get sunburn or tan, papaya can help you to lighten that. Vitamins A and C are abundant in this fruit. Combine with papain and it brightens your skin.
The melasma treatment
One of the most effective home treatments for reducing melasma is papaya. You will find this in a wide range of natural beauty products. The high content of beta-carotene, enzymes, vitamins, and phytochemicals gives protection from mild to severe disorders.
Facial hair treatment
If you're worried about unwanted facial hair, try applying a papaya facial mask. The papaya enzyme shrinks hair follicles and softens facial hair. It'll also reduce re-growth.
Increase collagen production
Papaya helps in restoring the skin's silky texture and resilience. It cleanses the skin of pollutants, undesirable proteins, and harmful radicals. As a result, it aids in the formation of collagen.
Also read: Safflower oil for skin | benefits, for skin lightening – acne & more.
– Sunflower oil for hair– benefits, growth, hair loss, use & more
– Is papaya good for diabetics?- reasons, benefits, risks & more.
– Dried papaya– benefits, calories, nutrition, is it good? & more.
– Nesquik Banana Milk: Side effects, recipe, benefits & more.
Apply papaya for skincare in a variety of ways
One of the main reasons for adding papaya to the beauty regime is it is suitable for every skin type. From oily skin to sensitive skin, you can use papaya for your skin.
Because of its numerous health advantages, papaya has become a popular item in many skincare products. Here is how you can use papaya in your face:
• Make a papaya face mask according to your skin type.
• Homemade papaya body scrub for exfoliation.
• Take papaya facials.
• Buy organic beauty products with papaya in them.
What are the side effects of using papaya on the skin?
Papaya is a natural element but still has some side effects. Following the list have a few side effects of using papaya on the face. Take a look.
• Pregnant women should not use papaya. It can hamper a baby's growth.
• Papaya can cause irritation or itchiness on the skin sometimes.
• It can cause difficulty in breathing.
• When you are using papaya on the face, it can make your eyes teary.
• Sometimes, it gives rashes around the eyes.
• Keep papaya away from under-aged children.
• It is not advisable to apply raw papaya to the face.
• Few people said papaya on the face makes their face dry.
• The use of papaya on the skin has triggered fungal infections for certain people.
• Excessive use of papaya can damage skin tissues.
In this article, we have tried to show you the variety of skin benefits that papaya can provide. I hope you got all the answers regarding papaya benefits for the skin. If you prefer to apply the papaya for your skincare, we would suggest you first consult a dermatologist or doctor. It's always a better idea before applying anything to the skin.